George Tice - Common Mementos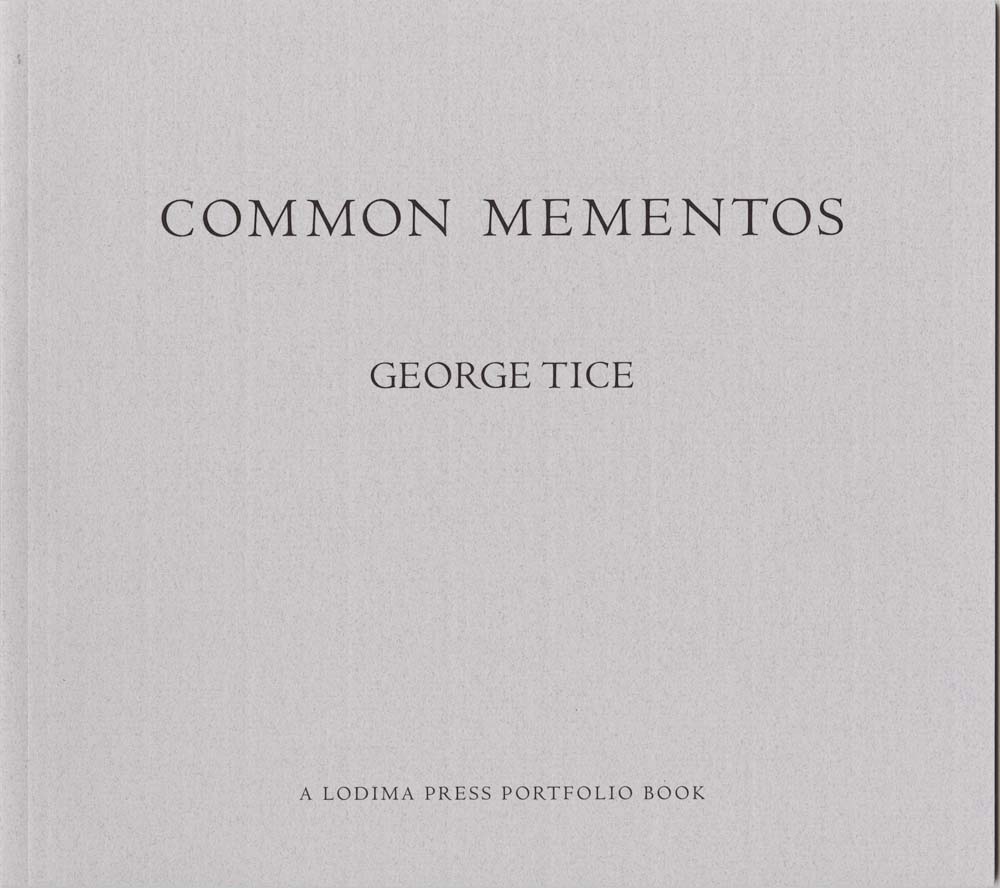 George Tice - Common Mementos
Volume 3 in the Lodima Press Portfolio Book Series
Previously unpublished photographs from Tice's urban landscapes series. They were taken in the 1990s, a period when Tice was especially prolific.
Common Mementos is akin to a short story, a short film, an essay. It is my attempt to define and interpret the New Jersey with which I was familiar. I think of it as a journey in time as well as place. — George Tice
Softbound Edition of 1000 Copies
Printed by SALTO in 600 Line Screen Quadtone
9 5/8 x 8 5/8-inches - 24 Pages
16 Reproductions
GEORGE TICE was born in Newark, New Jersey, in 1938. He began photographing in 1953, when he joined a local camera club.Fields of Peace (1970),Paterson (1972), andGeorge Tice: Urban Landscapes (2002) are among his best known books.
His numerous exhibitions include solo exhibitions at the Metropolitan Museum of Art (1972) and the International Center of Photography (2002). He has been awarded fellowships from the Guggenheim Foundation, the National Endowment for the Arts, the Bradford Fellowship (England), and the New Jersey State Council of the Arts.
In 2003, he received an honorary Doctor of Humane Letters degree from William Paterson University. His most recent book,Paterson II, was published in conjunction with a major exhibition at the Newark Museum in 2006.
Read more about the series
This is an ongoing series of beautiful, yet affordable photography books of previously unpublished work by leading and emerging contemporary photographers. These books are printed to the high standards for which Lodima Press has become known—600-line screen quadtone on heavy cover stock, insuring that the reproductions are true to the originals.
Each book in the series contains from 10 to 18 photographs and includes a statement by the photographer. The books have 24 pages and are 9 5/8″ x 8 5/8″ in size.
Published in a signed and numbered hardbound edition limited to 100 copies for $135 each. They are available only to subscribers to the entire series. The softbound edition is limited to 1000 copies, and books are available individually for $39.95 each or by subscription to the entire series for $29.95 each.
The series was available in both a softbound edition limited to 1000 copies (sold individually and by subscription to the entire series), and a hardbound edition limited to 100 signed and numbered copies, originally available as a complete set and by subscription only. We are now making available the few signed and numbered books from incomplete sets.
PORTFOLIO BOOK BY PHOTOGRAPHER
1. Nicholas Nixon – Home
2. Carl Chiarenza – Solitudes
3. George Tice – Common Mementos
4. Keith Carter – Opera Nuda
5. Linda Connor – Heaven|Earth
6. Larry Fink – Primal Elegance
7. Arthur Tress – Planets
8. Marilyn Bridges – Flights Through Time
9. Paul Caponigro – Stone Churches of Ireland
10. Douglas Mellor – Still
11. Hans Bol – The Studios of Pietrasanta
12. Robert Adams – Close at Hand
13. Eric Lindbloom – Salt Grass
14. Arno Rafael Minkkinen – Balanced Equation